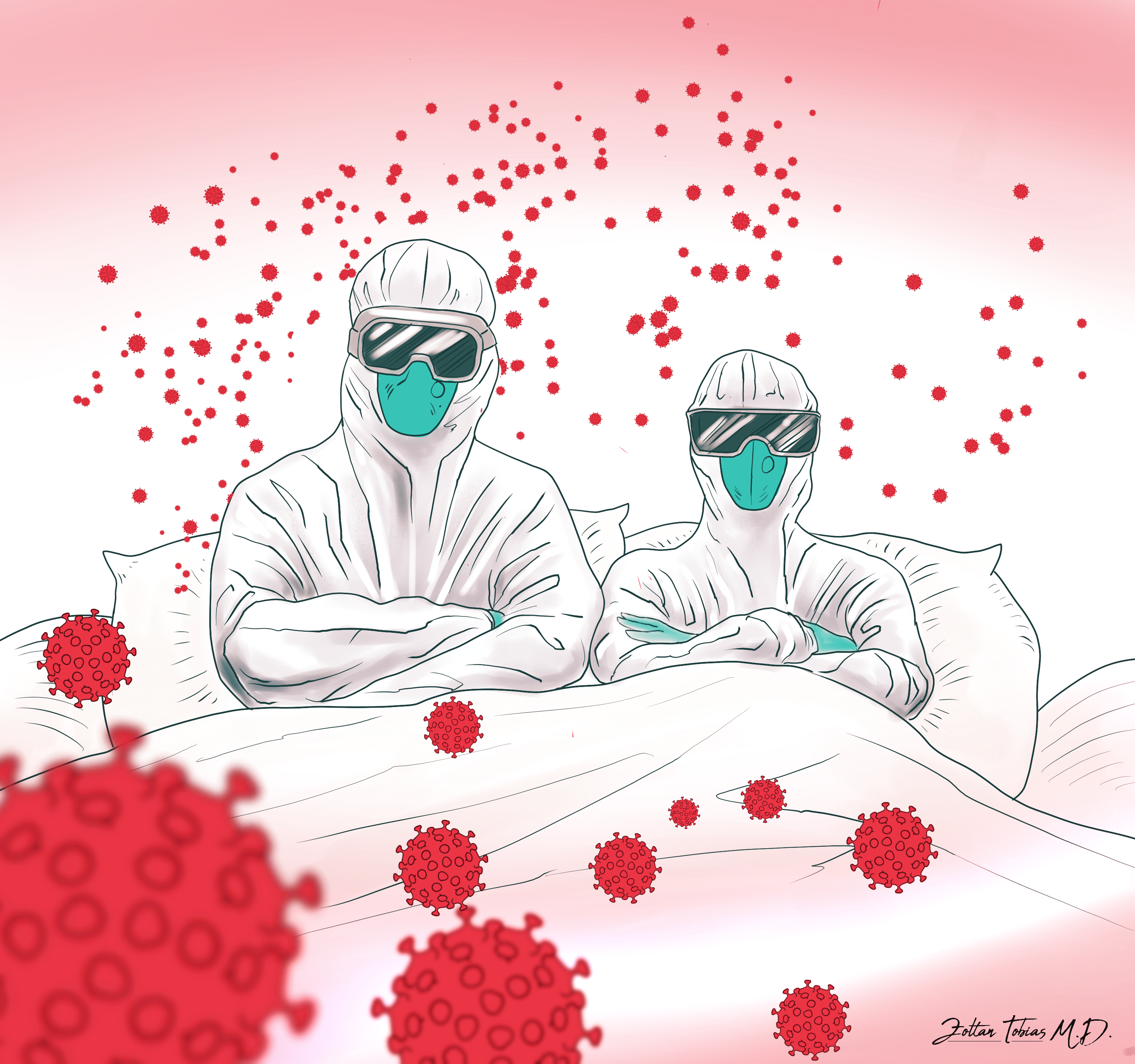 What is COVID-19?
COVID-19 is short for coronavirus disease 2019. It is an infectious respiratory disease caused by the virus severe acute respiratory syndrome coronavirus-2 (SARS-CoV-2), in the following referred to as coronavirus.
COVID-19 was first identified in December 2019 in Wuhan, China, and in March 2020, the World Health Organization (WHO) declared the outbreak of COVID-19 a pandemic. As of 9 July 2020, more than 12 million cases have been reported all over the world, resulting in more than 500,000 deaths. 
What are the symptoms of COVID-19?
Typical symptoms of COVID-19 include fever, cough, and tiredness, which may appear 2-14 days after exposure to coronavirus. However, the severity of symptoms varies considerably, and whereas some people do not experience any symptoms, others develop severe disease. Elderly people and people with chronic diseases are at higher risk of getting seriously ill if infected with coronavirus.
Is coronavirus transmitted via sexual activity?
Coronavirus is spread by respiratory droplets which are released when an infected person coughs, sneezes or talks. If you are within 2 metres of an infected person, you risk inhaling some of these droplets and be infected.
Thus, being close to another person, whether this involves hugging, kissing, or having sex, involves a risk of being infected, if the person you are close to is infected with coronavirus.
Coronavirus can also be present in faeces. Therefore, sex involving exposure to faeces also implies a risk of infection.
Coronavirus has been found in semen samples from men with COVID-19 and in men recovering from the disease. However, there is no evidence that COVID-19 can be transmitted through semen or vaginal fluids. Likewise, COVID-19 has not been shown to be sexually transmitted.
Can I have sex with my partner?
If you and your partner are healthy and asymptomatic, practice social distancing and have had no known exposure to anyone with COVID-19, it is most likely safe for you to touch, hug, kiss, share bed and have sex. 
If your partner is infected with COVID-19, you should avoid all close contact at least 7 days after the symptoms started. Your partner should self-quarantine and limit the use of common spaces. Clean common spaces regularly and wash all beddings.
If you are infected with COVID-19, you should self-quarantine and avoid all close contact with your partner for at least 7 days after the symptoms started. Also, limit the use of common spaces, and clean these regularly. Wash all beddings.
Tips for reducing the risk of being infected with coronavirus while having sex
Minimize the number of sex partners
Do not have sex with a person who has symptoms of COVID-19
Use a condom
Do not kiss
Avoid getting in direct contact with semen, urine, or faeces
Wear a mask while having sex
Wash hands and have a shower before and after having sex
What does science say about COVID-19 and sex life
Risk of transmission within the same household
Studies have reported that among people living together, only one out of six will get COVID-19 if another person in the same household has the disease.
COVID-19 associated confinements and sex life satisfaction
A survey conducted among Chinese heterosexual men and women has analysed the implications of the COVID-19 pandemic and associated confinement and other precautions in terms of sex life. The results were as follows:
One in four had a lower sexual desire
One in three experienced a reduced sexual activity
44% had a lower number of sex partners
About every third experienced a reduced overall sexual satisfaction.
COVID-19 pandemic and sexual health among men who have sex with men
In a survey on the sexual health of men who have sex with men, about half of the participants declared to have fewer sex partners due to the COVID-19 pandemic. Most of the participants had no change in condom access or condom use, while some reported difficulties in accessing HIV testing, prevention, and treatment services.